The bathroom is a very special space. It is the place where people get ready for the day and relaxed before bed. It is a venue for long baths and pampering, but also for hygiene routines and quick showers.
The bathroom decoration should always be clean and functional, but also comfortable and welcoming, so that you can move around freely and perform the tasks you need to.
Bathroom renovations are often quite necessary, but with layout changes and the need for Premium materials, they can become very expensive. It is thus important to approach bathroom renovations with a clear plan in mind and make sure to stick as close as possible to that plan as the project unfolds.
This article is filled with gorgeous and successful bathroom renovation projects, complete with before and after pictures, so that you can have a good idea of what can be done and find inspiration to remodel your own bathroom.
Scroll down to look at these Gorgeous Bathroom Makeovers With Before And After Photos.
Bathroom Renovation With Gorgeous Blue Scale Tile And Golden Details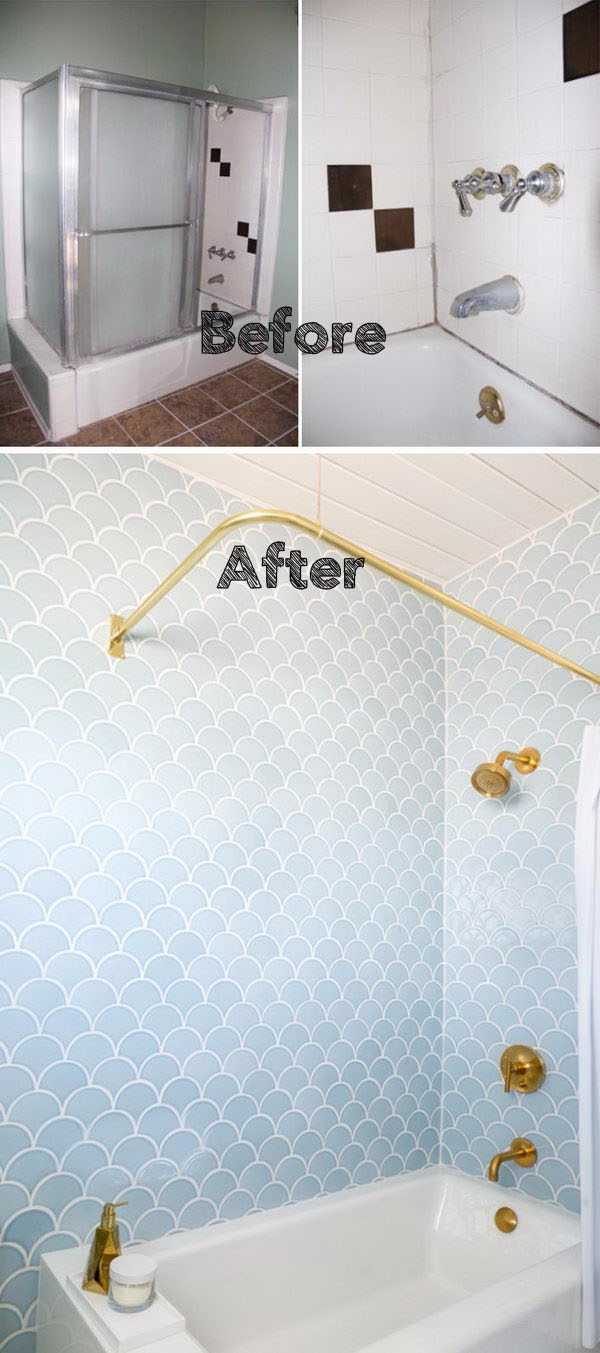 This bathroom was originally quite traditional and somewhat boring, with sterile white walls and brown tile floors. The choice of a blue scale tile wall accentuated with gold details gave a vintage charm to the space and really brought it to life. via stylebyemilyhenderson
Farmhouse Bathroom Renovation With Wooden Antique Vanity Adding Warmth And Wallpaper Creating The Look of Classic

The warm tones originally used in this bathroom decoration were very cozy but also dark, which made the space look small and outdated. Opting for a farmhouse-style renovation allowed this bathroom to maintain its vintage and rustic appeal while looking brighter and more spacious, thanks to the new, light wallpaper. The addition of dark furniture like the antique vanity brings back the room's warm and comfortable feel while keeping the overall decoration very elegant. via tidbitsandtwine
Echo the Dark Muntins With Blackened Bronze Fixtures And Other Charcoal Accents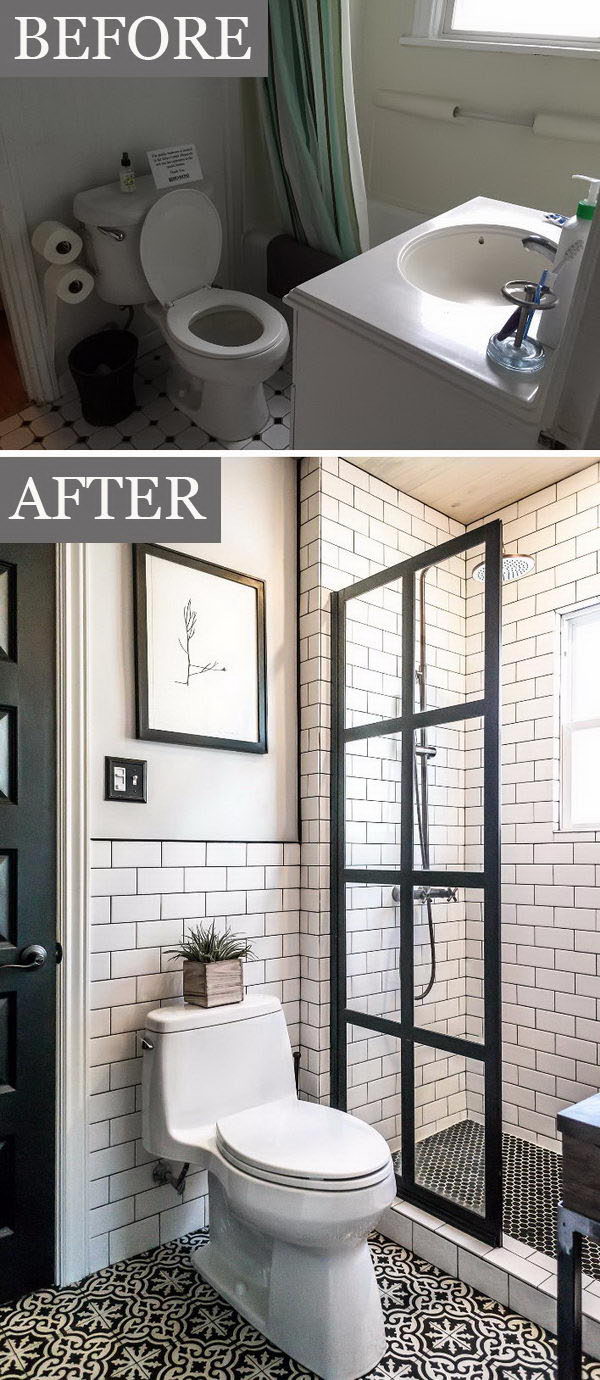 This bathroom really came to life in a very modern way with this black and white renovation. The exposed glass tile walls and the black accents give the bathroom an elegant, almost industrial look. via ruemag
Give Your Attic Bath An Open And Airy Feeling With White Painting And The Sink On Legs

Attic spaces have a tendency to look dark, cramped and stuffy. Painting this bathroom white and using simple, open furniture like this sink allowed the space to look bigger and brighter. via jennasuedesign
Get The Dash of Drama Without Darkness By Painting The Upper Portion Of The Wall Black, And Other Surfaces Left White

This tiny bathroom looked outdated and lacked character with its integral white decoration and excessive floral details. Painting the upper wall black and installing simpler furniture updated the look of the space while also adding much needed character. via homewithbaxter
Update A Plain Bathroom By Making A Crisp Contrast Between The White Shiplap And The Light Gray Walls

This plain white bathroom with black appliances surely needed a makeover. The gray walls with shiplap at the bottom half were a great choice to update the space. They are the perfect backdrop for the furniture and look beautiful against the dark floor and floral rug. via keystoinspiration
Blue Planked Walls Aith Crisp White Trim And Wood Details Bring In Farmhouse Style In This Bathroom Renovation

Here's a great twist on a farmhouse bathroom remodel. The blue and white shiplap panel walls make the space look and feel fresh, while the two-toned wood vanity and the adorned mirror add the cozy farmhouse touch that completes the decoration. via 12oaksblog
Freshen The Bathroom With Low-Cost Updates Including A Wall Stencil, Fresh Paint, New Lighting, And A Thrifted Mirror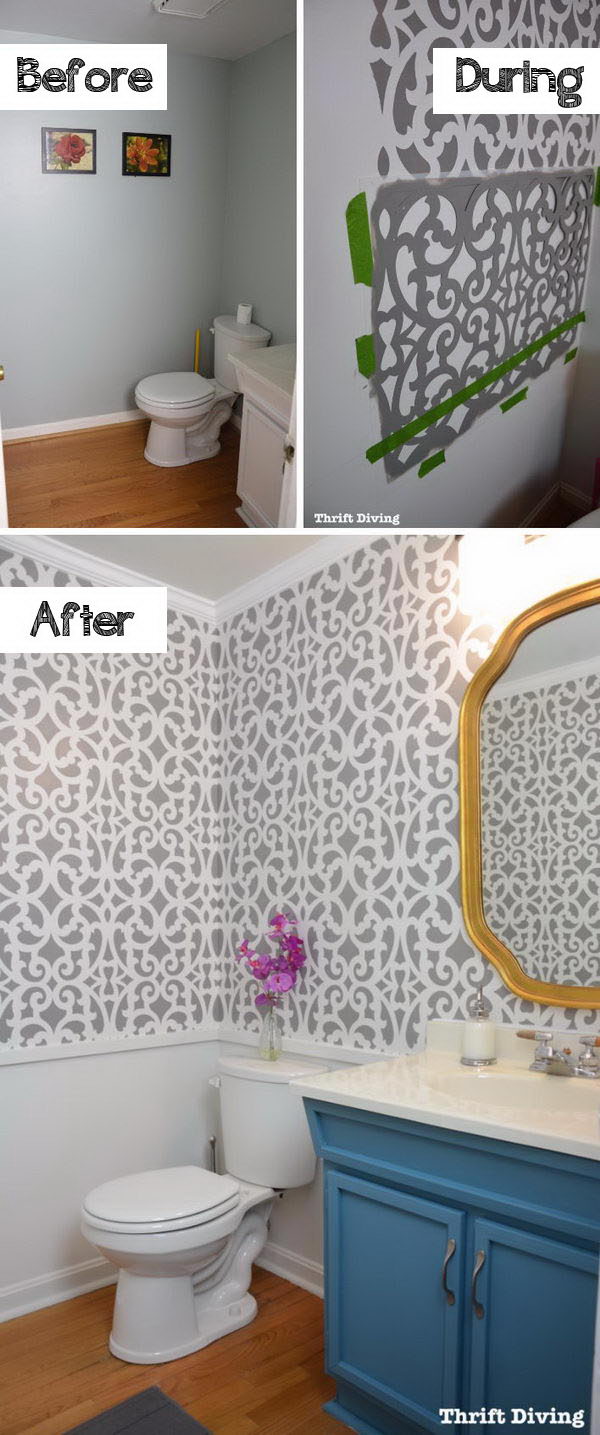 Here's a great example of how you can completely update your bathroom easily and on a budget. The freshly painted walls with a stenciled design overlay bring a fun aspect to the space that is accentuated by the enhanced lighting and the new, colorful furniture and mirror. via thriftdiving
Bathroom Makeover With Faux Stacked Stone Wall Using Reclaimed Pallet

This bathroom went from a warm farmhouse style to a cool, elegant gray look after its makeover was completed. A stacked stone look was achieved on the main wall using painted pallets, and the vanity was also painted to match the new theme. via apartmenttherapy
Pep Up A White Bathroom With Vibrant Accessories-Patterned Tiles, Vintage Light Fixtures And Vanity

The owners maneged to make this bathroom look new while keeping the main fixtures by adding patterned tiles to the floor and walls and swapping the old vanity for a vintage, farmhouse-style piece. The exquisite mirror and metallic light fixtures add the glamorous finishing touches. via jennasuedesign
Access To Natural Light, Let It All In

This bathroom has a generous window, and the decoration really makes the most of it. The open space allows the light to fully filter in and bounce off the space, making it look even bigger and more peaceful. The effect is enhanced by the glamourous, vintage-style white claw foot bath, which creates the illusion of saving space. via katelavie
Opening Up That Wall Visually Made The Bathroom Feel Larger

This bathroom got a complete makeover, which fully opened the space. There's a great play of lights and texture working here, as the white tiles and the black walls make the space seem endless. The shower doors were kept fully transparent and without a treshold, further opening up the space. via thecreativityexchange
The Floor To Ceiling Subway Tile Was Used To Make the Bathroom Sparkle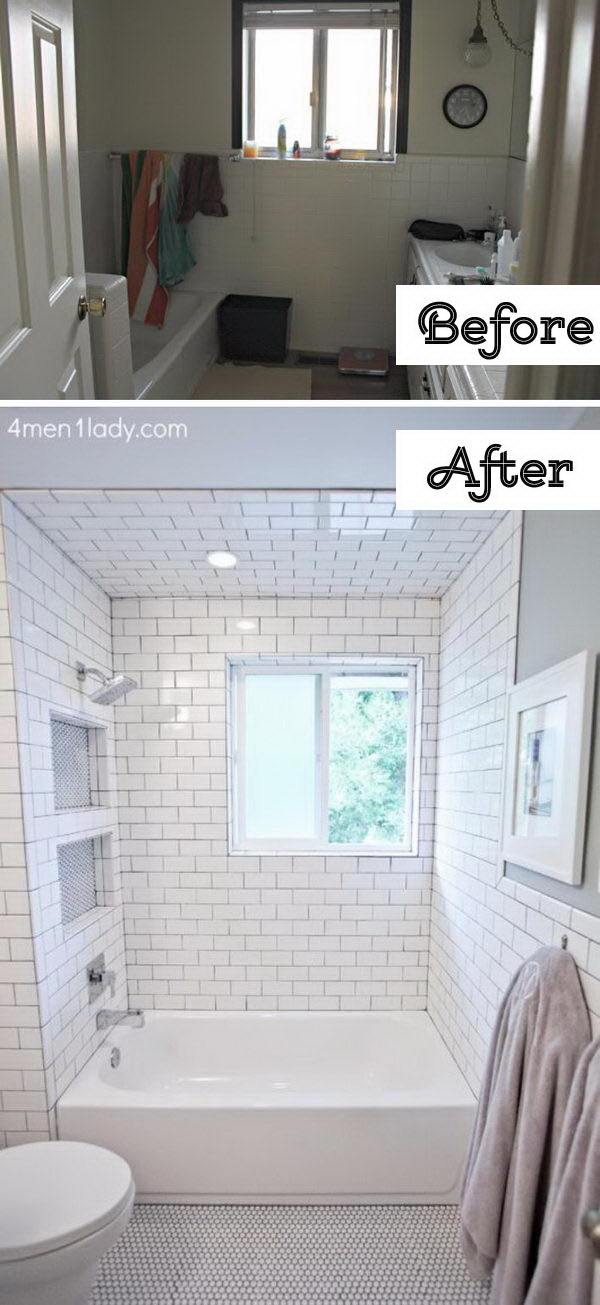 This bathroom looked like it had been neglected, but the makeover was very successful. The subway tile gives a very interesting dimension to the space and really brings it to life, as it creates soft contrast against the white bath and toilet. The new organization of the room also makes better use of the available space. via 4men1lady
Hang A Shower Curtain All The Way Up To the Ceiling To Make The Room Feel Bigger

Hanging the shower curtain directly from the ceiling makes the room look much taller, while the new floor gives it a cleaner look. The vanity was also painted to match the shower curtains, which is a really elegant finishing touch. via source
Big On Style With The Focal Point

This room looked really small and unkempt, with its old-fashioned furniture and unused space. By redoing the walls with subway tile and the colorful fish wallpaper, the owners managed to make full use of their space and draw the eye upwards, creating the illusion of a bigger room. via pinkhouse
Keeping The Walls White Prevents The Black And White Retro Floor Tile From Feeling Busy

The white tile walls really open up the space while the patterned monochrome floor makes the room look elegant. Coupled with the wood ceiling and the vintage-looking appliances, the final result is very elegant and balanced. via beginninginthemiddle
Classic And Timeless Bathroom Makeover With A Contemporary Twist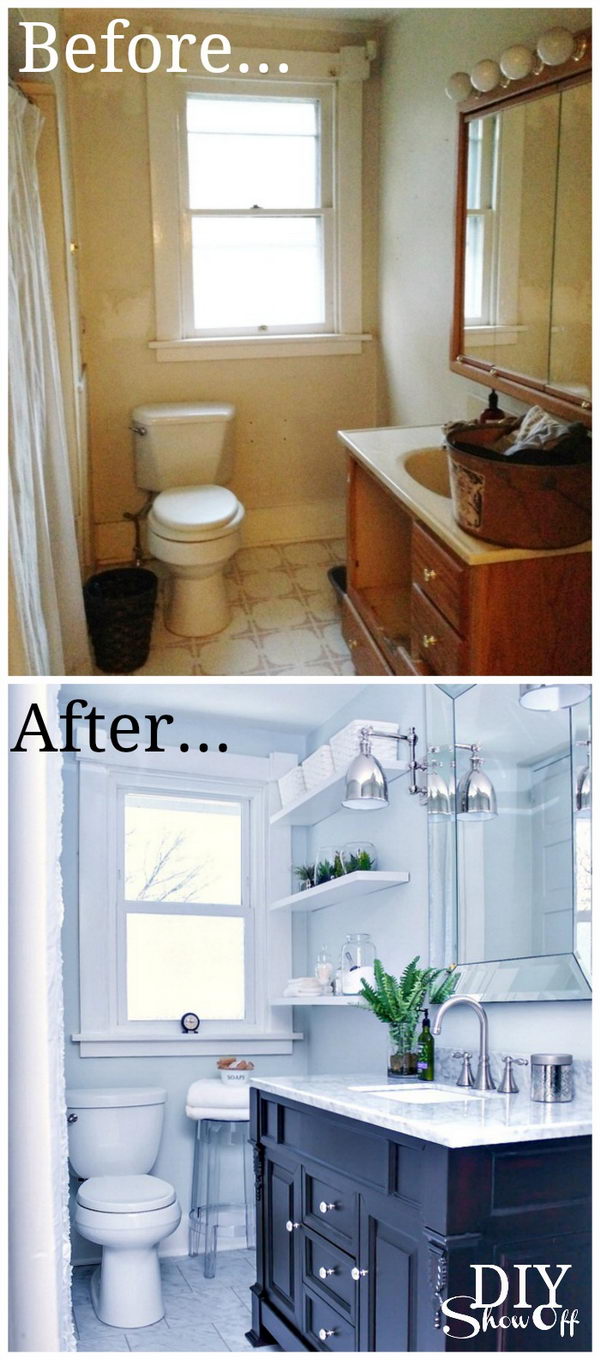 This bathroom really benefited from a new, modern dark vanity with a white top and a change in lighting. The simple mirror and sconces give it a contemporary, almost industrial charm. via diyshowoff
Install Subway Tiles Just Around The Tub And Paint Around The Bathroom

This bathroom had the cosmetic makeover it really needed, as the walls were painted a classic light blue and the tub area was decorated with subway tiles to add texture and contrast. The ruffled shower curtain adds a charming finishing touch and an extra layer of texture. via houseofhargrove
Painted Bathroom Makeover With DIY Wall Stripes

This bathroom makeover managed to keep the decoration of the space quite unusual, but also much softer. The walls were painted in softly contrasting stripes which stand out nicely against the white furniture abd appliances, creating a charming vintage look. via livingrichonless
Bathroom Renovation With The Inclusion Of Two Beautiful Basin Sinks That Totally Define The Space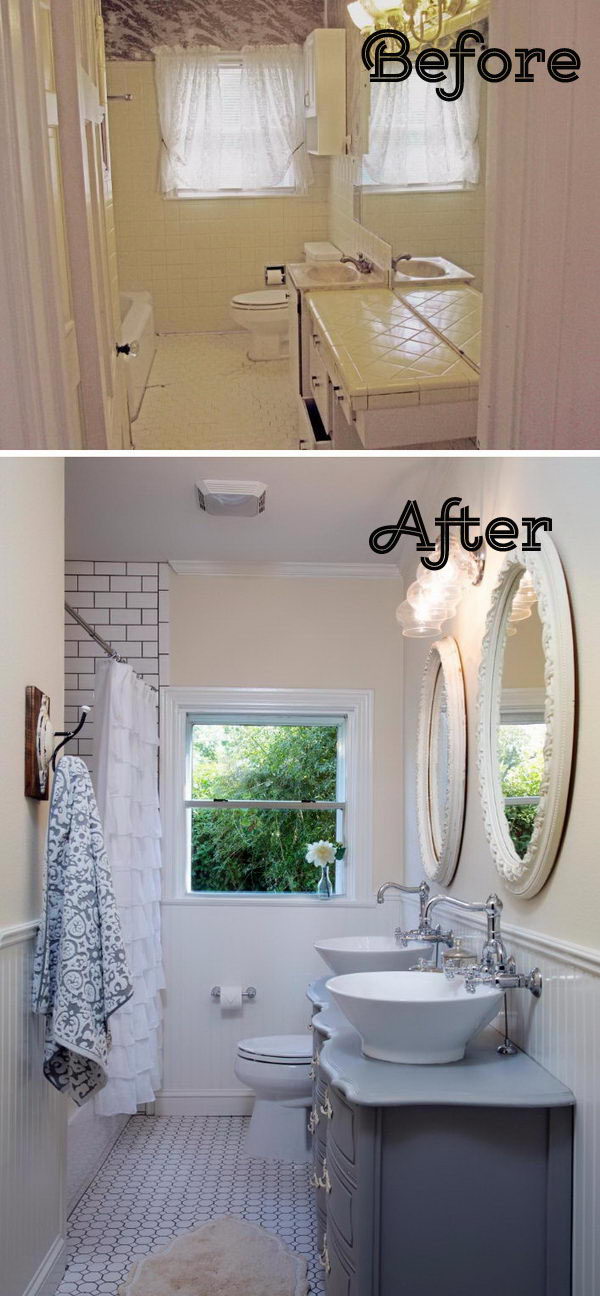 This soft colored, vintage-looking bathroom features twin basin sinks with round mirrors and spotlights overhead, which make the most of the space while allowing multiple people to do their grooming at once. via houseofhargrove
French Inspired Bathroom Remodel

This bright green, patterned bathroom decoration was a very unfortunate eyesore, which you would never imagine from looking at its current picture. The space was remodeled with soft tones, marbled tiles and wooden accents, all of which are very reminiscent of the French countryside. via source
The Farmhouse Charm Blends Well With Shiplap Walls, Wood Details And The Pebble Tile

The warm-toned farmhouse style makeover was a perfect choice for this space, as the wooden accents complement both the shiplap and the pebble tile very well. It all comes together seamlessly and adds both aesthetic and functional value to the room. via jennasuedesign
Allow The Bold Patterned Floor And The Gray Vanity To Stand Out With White Shiplap Walls Which Look Clean

This bathroom has a really simple charm due to the clean, white shiplap walls, which reflect light beautifully, the softly patterned gray floor and the two-toned gray vanity, with its golden faucets and complimentary mirror. via source
Farmhouse Bathroom Makeover

This warm-toned, vintage farmhouse bathroom is a little busy, but it works. The small, rich brown vanity is the center piece, as is the very unexpected mirror placed above it. The room at large was left neutral and plain to reach aesthetic balance, but the wicker baskets placed on the shelves tie everything together. via shadesofblueinteriors
Beautifully Renovated Bathroom With Elegant Cabinetry, Classic Subway Tiles, Light Blue Walls, And Poured Concrete Countertop

The Earth tones in this bathroom made it look cramped and outdated. The light blue and gray renovation brought light in and really updated the space. The black and white floor and the furniture are very elegant, and the smoothness of poured cement adds a modern finishing touch to the project. via thelilypadcottage
Low-Cost Bathroom Makeover From Brown To Green Spa

The green makeover of this elegant bathroom, which includes teal walls and wicker basket holders really brought the room to life. Textile pieces such as the rug and curtains add some texture and softness to the space. via fourgenerationsoneroof
Farmhouse Bathroom Makeover With A DIY Brick Veneer Wall

This bathroom went from messy to fabulous with a farmhouse-style makeover, complete with a fake brick wall, dark wood countertops and a rich mahogany floor. via porch
A Nature-Feel Bathroom Makeover With White Shiplap Wall And Wood Vanity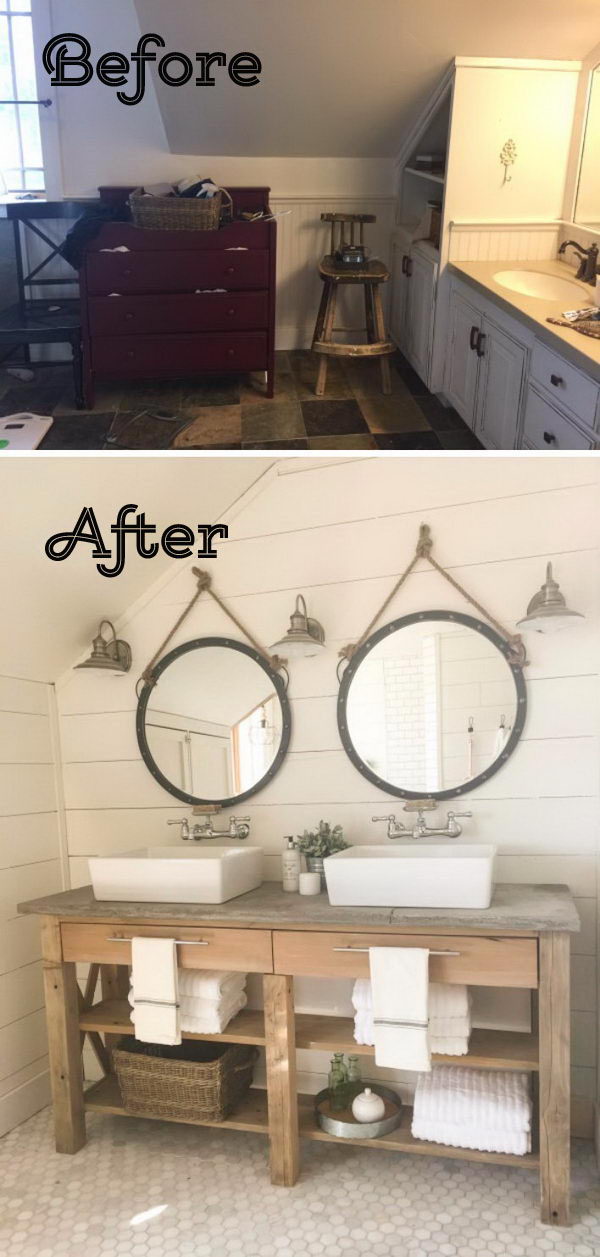 This bathroom makeover is all about the twin wood vanities, complemented by round industrial mirrors. The white shiplap wall makes a great background for the beautiful pieces and wall spotlights really enhance the space. via twelveonmain
Give Your Bathroom A New Look With A Shiplap Accent Wall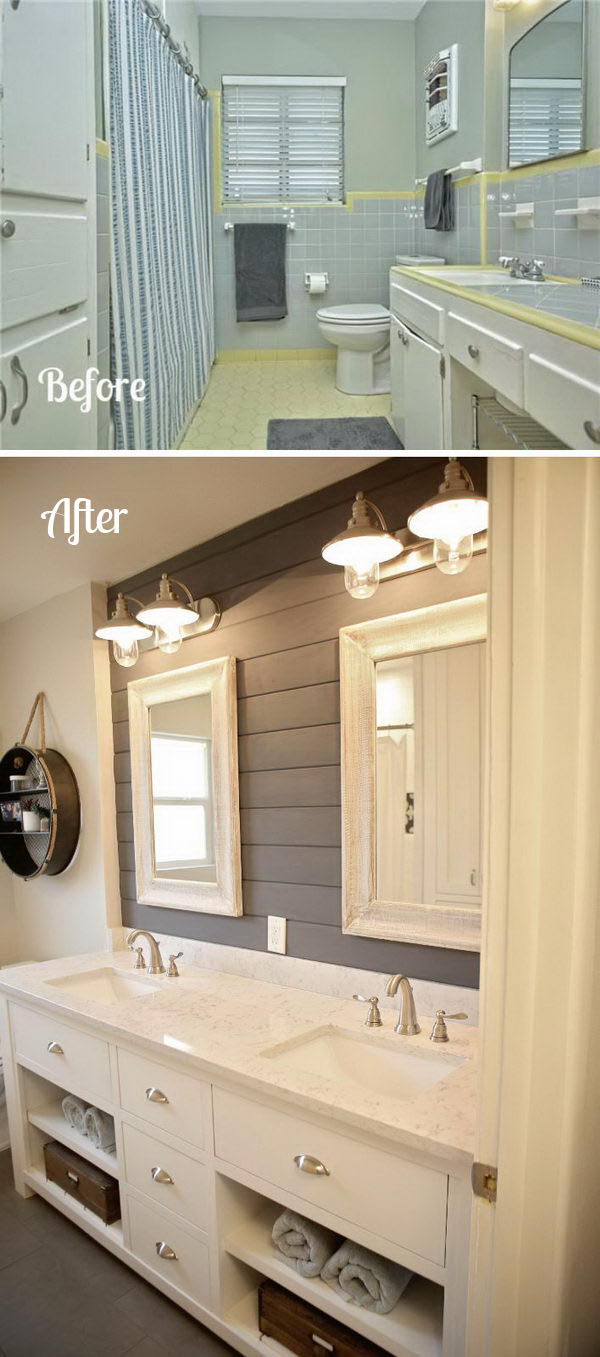 This rich chocolate and white bathroom is really beautiful and elegant. The simple dark brown shiplap wall really sets off the white mirrors, vanities, and even the shower curtain, as does the floor. Twin industrial spotlights illuminate the vanities and mirrors. via seabrookstyles
The Black Beadboard Wallpaper In This Bathroom Serves As An Elegant Backdrop For Everything

This black and white bathroom is really gorgeous, as the black beadboard wall provides great contrast against the soft gray vintage cabinet, the white sink and the charming wicker basket at the corner. via roomsforrentblog
DIY Farmhouse Style Fixer Upper Bathroom On A Budget

This farmhouse style bathroom remodel mixes the warm tones from the mirror and the floor paneling with the cool charcoal of the repainted vanity, the industrial overhead lights and the white walls to create a space that is both cozy and modern. via musthavemom
Have A Break In The Tile With A Different Pattern

This bathroom certainly looks much fresher with its new white walls, which are decorated with a trendy marbled tile that really stands out and adds character to the room. via ninahendrick
Patterned Cement Tiles Create Bold Contrast In A Bathroom
There's a certain warm, luxurious Moroccan-inspired theme to this bathroom remodel, with its patterned tile floor, mixed textured walls and rustic bench. via vintagescout
Create Drama On The Ceiling With Stencil

Decorating the ceiling of your bathroom can add a perfect and unexpected finishing touch to the space, as you see in this example, where a plain ceiling was turned into a focal point with a stenciled scale print. via hookedonhouses
Powder Room Makeover With Shiplap Walls And A DIY Vanity

This little powder room gained a vintage charm with its new walls, which mix smooth, warm amber and white shiplap, as well as the rustic-style, distressed wood vanity, complemented by a smooth, rectangular framed mirror. via houseofrumours
The New Black And White Bathroom With Pop Of Gold

Painting part of the wall black was a genious idea here, as it made this bathoom look more dimensional and elegant. The floating shelves and darkened vanity further enhance the wall's contrasts while the pops of gold add the finishing touches to the decoration. via thebloominghydrangea
Take The Door Off The Closed-In Linen Closet For A Chic And Open Feeling

Taking the door off this linen closet, exposing the beautiful shelves and drawers inside, gave a more open and modern feel to the space. Details such as the patterned column and golden hook add the finishing touch to the remodel. via addicted2decorating
Go For A Fresh, Bright Update Using Wallpaper And Beadboard

This bathroom looks much brighter and more elegant after its floral makeover, as the wallpaper adds sophistication to the classic beadboard wall, which keeps the space looking light and fresh. via source
$62 Mini Bathroom Makeover

This bathroom remodel proves that details can make all difference, as the addition of decorative elements like the rug, mirror, picture frames and wicker basket really gave the space a new life. via source
DIY Bathroom Makeover With Faux Wainscoting And Sharpie Art Wallpaper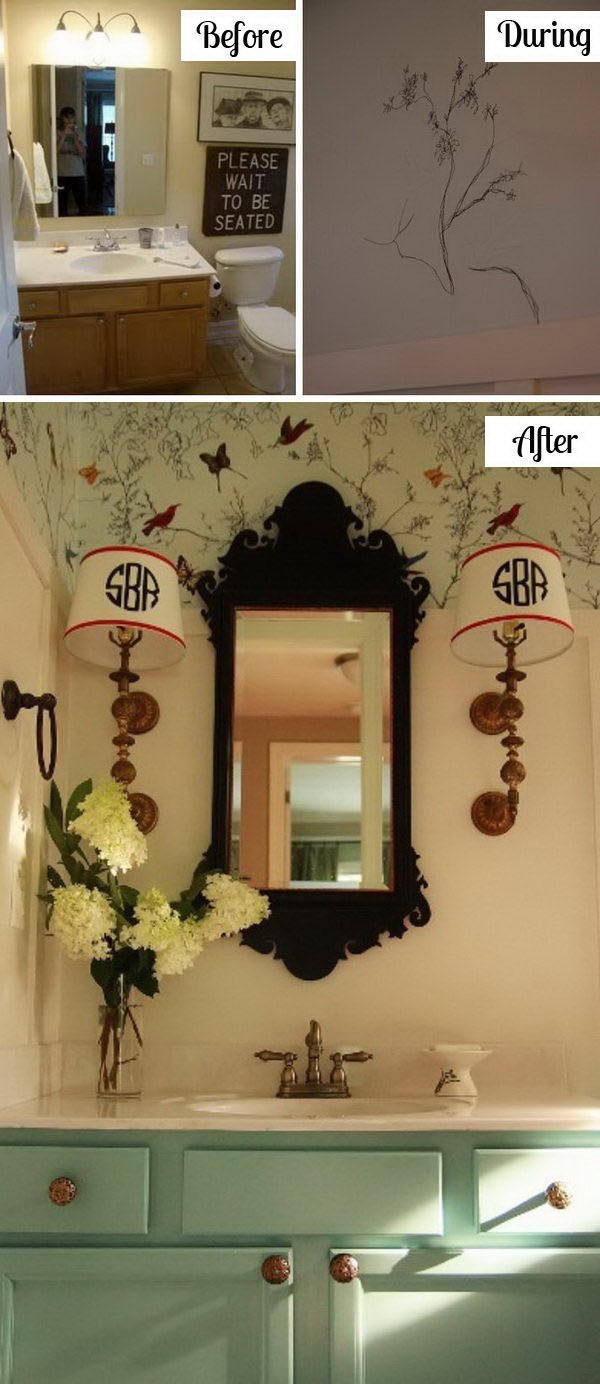 This bathroom went through a really cool vintage makeover, as it was partially covered with a sketch-like wallpaper and decorated with a detailed mirror and new light fixtures. via shannonberrey
A Budget-Friendly Way To Add Drama Using A Strip Of Glass Tiles

Repainting the wall and adding a glass tile trim really gave new life to this space. Installing a cabinet on the open wall also helped fill in the space while providing storage space. via providenthomedesign
$150 Bathroom Makeover with DIY Pallet Wall without Pallets

This modern farmhouse-style bathroom remodel was really sucessful, as a fake pallet wall of various brown hues was created in the newly repainted room. A dark vanity and matching mirror give the room its modern and elegant feel. via thisnestisblessed
Colours And Textures Adding Warmth In A Small Bathroom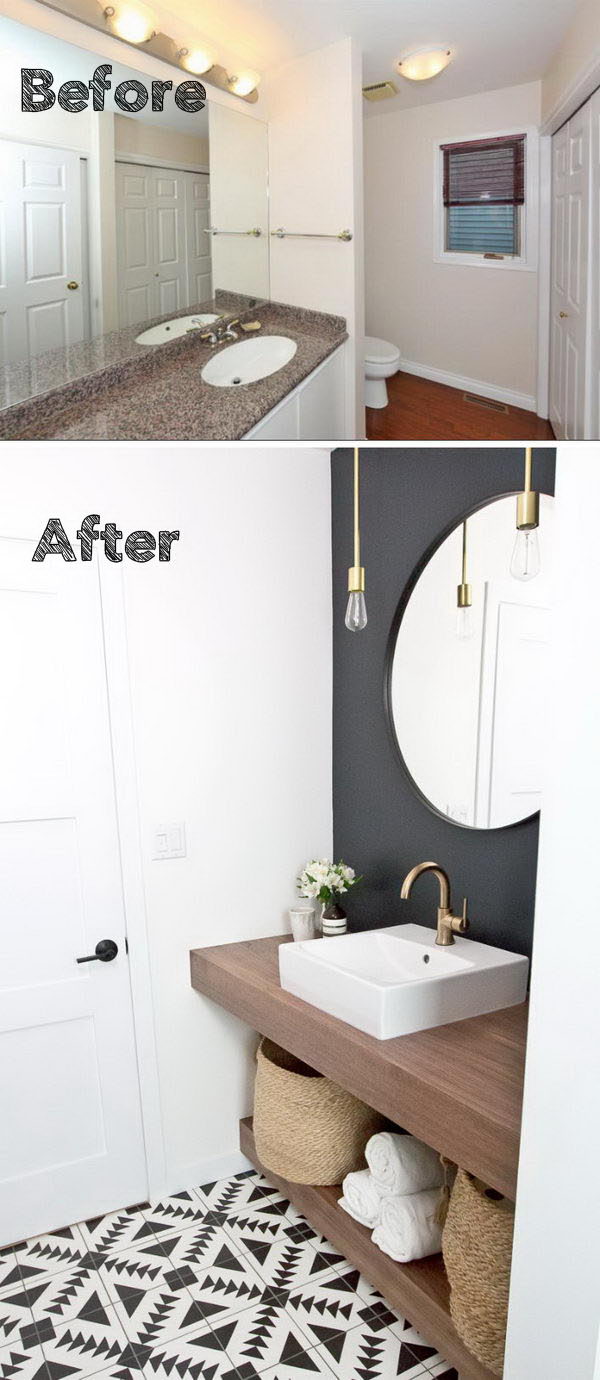 This bathroom may look small, but the bold remodel really worked in its favor, as the black and while walls bring a new dimension to the space. The simple wooden vanity and round mirror look beautiful against the statement wall and patterned floors, while two brass hanging light give the room its ultimate finishing touch. via kristinalynne
Changing The Entire Look And Feel Of A Space Can Be Achieved With Some Paint And Framework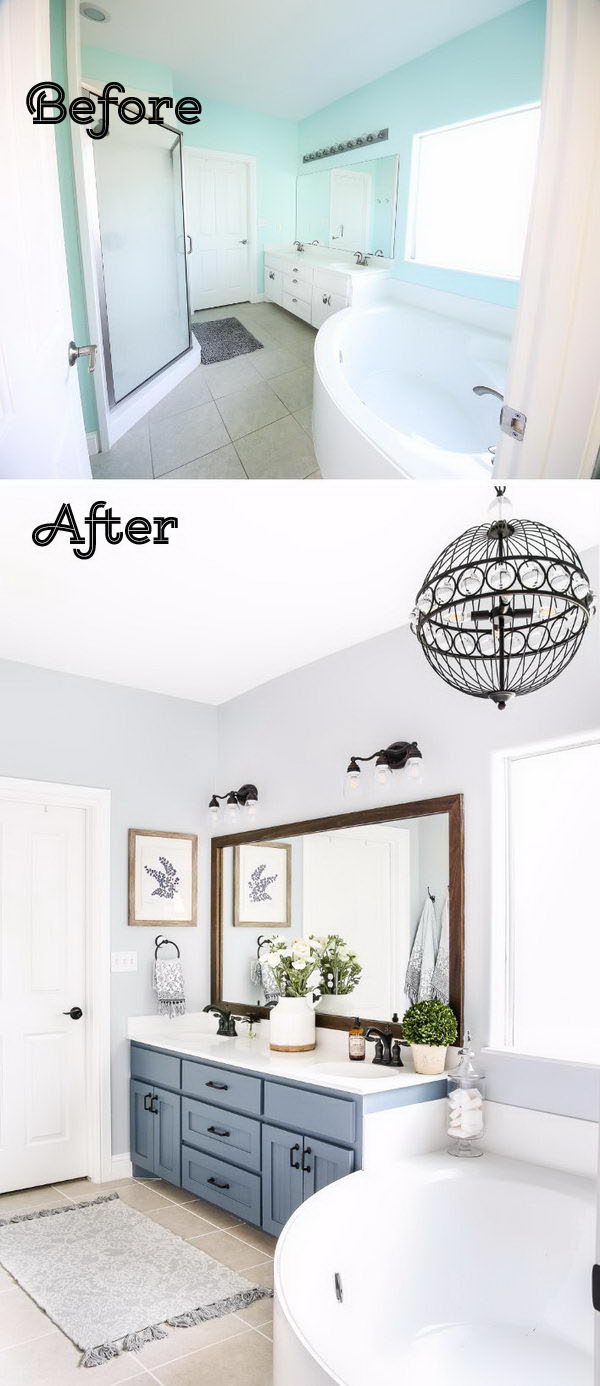 This bathroom was originally too plain and almost sterile, but a change in color scheme, complete with light gray walls and a charcoal vanity made it a rustic-industrial dream. Details like the rug, framed mirror and sphere chandelier reinforce the mixture of styles. via maisondepax
Wood, White And Shiplap Come Together To Make This Bathroom Bright And Cozy

This white bathroom with shiplap walls and hexagon patterned floor is warmed up by wood details such as the shelves, towel hangers and wicker baskets. via proverbs31girl
Stone Accent Wall In The Bathroom Adds Warmth And Class
This bathroom went from classic to classy with its remodel. The dark floors are very elegant, and the stone accent wall inside the shower adds unexpected character and warmth. via canelaynaranja
Update An Ugly Bathtub With Paint

This pink bathtub area left much to be desired, so painting the space fully white was a great choice that brightened it and allowed the hardware to stand out. via askannamoseley
Paint Bath Floor Tiles To Change The Look

This is quite a simple remodel, as all that was done was paint over the existing tiles with a layer of smooth, shiny charcoal color that completely changes the look of the room without much effort or large expenses. via varietybyvashti
A Cozy Bathroom Gets A Farmhouse Facelift Featuring All Our Favorite Things

This bathroom went from cozy-rustic to elegant farmhouse, as the walls were painted white and the floor covered in brick tiles. A claw bath and gold hardware give the space its air of vintage elegance. via jennasuedesign
Farmhouse Powder Room Reveal
This powder room got a perfect makeover as the wallpaper was replaced by smooth pallets which make the perfect background for the gorgeous window mirror and the elegant dark vanity. via stonegableblog
Incorporated A Gallery Wall For Lots More Interest And Something Unexpected In A Bathroom

It is common to display art in the bathroom, but this remodel made it a feature with its frame-covered open shelves. The theme is completed with pattern floors, wood ceilings, a dark vanity makeover and a white framed mirror. via sypsie
Farmhouse Style Reveal- Luxe Up The Bathroom With A Large Antique Mirror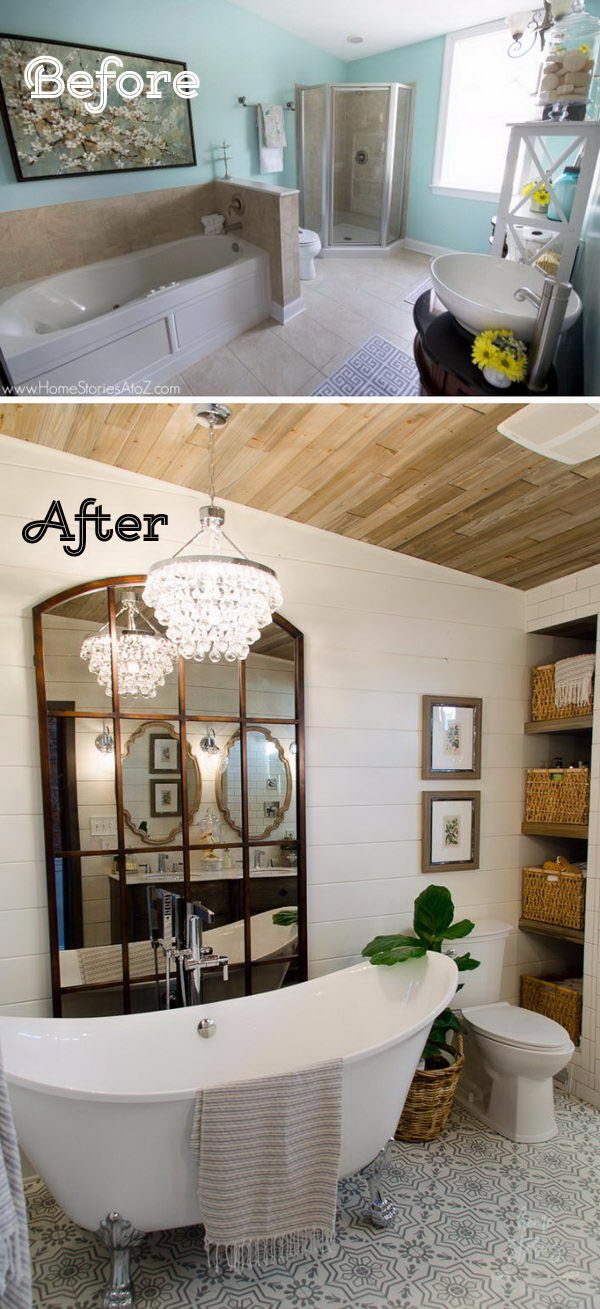 This bathroom renovation is all about creating an elegant farmhouse style, which was achieved through a pallet ceiling, patterned floor and, more importantly, the enormous antique mirror which replaced the painting by the claw foot bath. via homestoriesatoz
Gray and White Vintage Modern Bathroom Makeover

This is a fun bathroom makeover, as the space may have lost color, but it gained a lot of character with its patterned floor, round mirror and open shelving, complete with a bold quote in the background. via littlehouseoffour