Staying organized can be quite a difficult task for some people. While organization may come naturally to certain individuals, others really struggle to keep everything "in check".
Organization is, however, especially important when cooking. Good meals come from a clean, open space where you have all the room you need to move and can easily see as well as reach every item that you need. Organizing your kitchen's countertop is thus of the utmost importance.
We understand, however, that some kitchens aren't very spacious, and some people have no idea of how to keep pots, pans, knives and rolling pins organized without spending a fortune.
That is exactly the point of this article: to clear the clutter in your head – and kitchen – and help you find that kitchen organization that works for you and your budget.
Sounds good? Then read on to find these Awesome Ideas To Keep Your Kitchen Countertops Organized!
How about the iron garden trellis used as a pot rack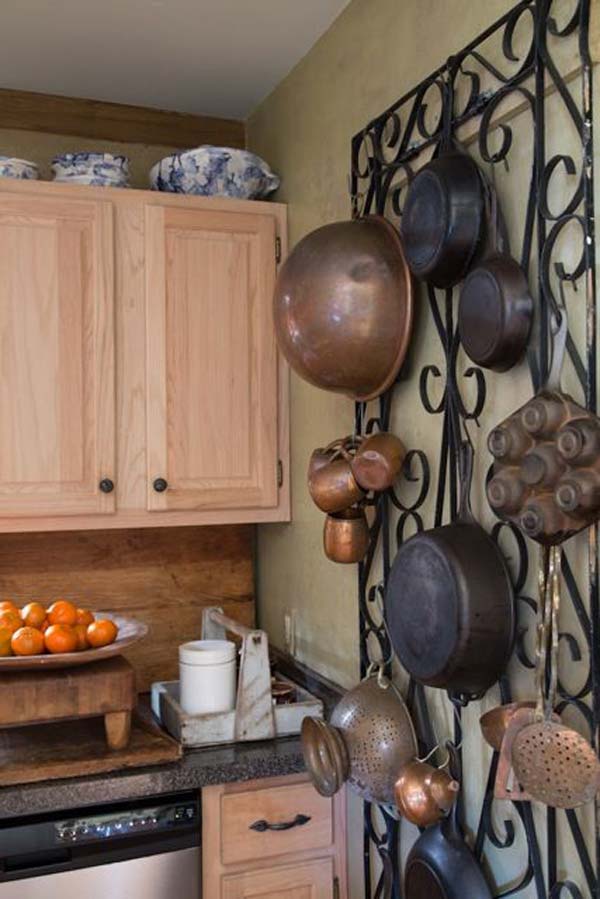 via thevisualvamp.blogspot.com
Install a flip-down shelf to place cookbook and drink, then you have enough space for preparing foods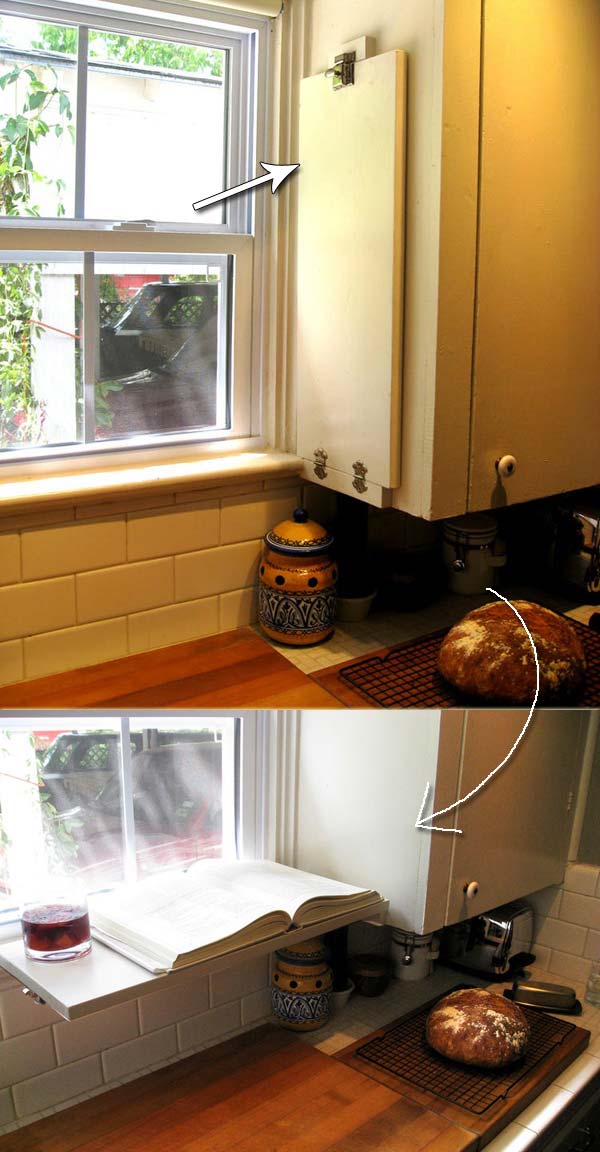 Build a pull-out utensil bin to avoid clutter on your countertop and be able to reach them more easily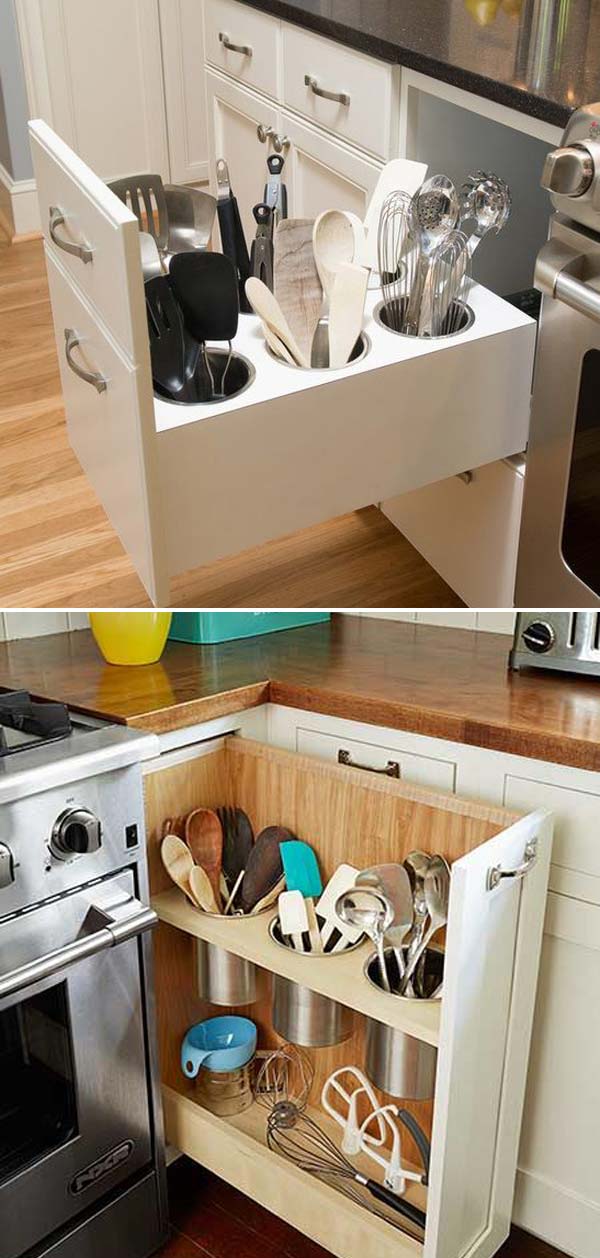 via thisoldhouse.com
Storing dishcloths in a basket is much better than them being in the drawer, as you can reach them quickly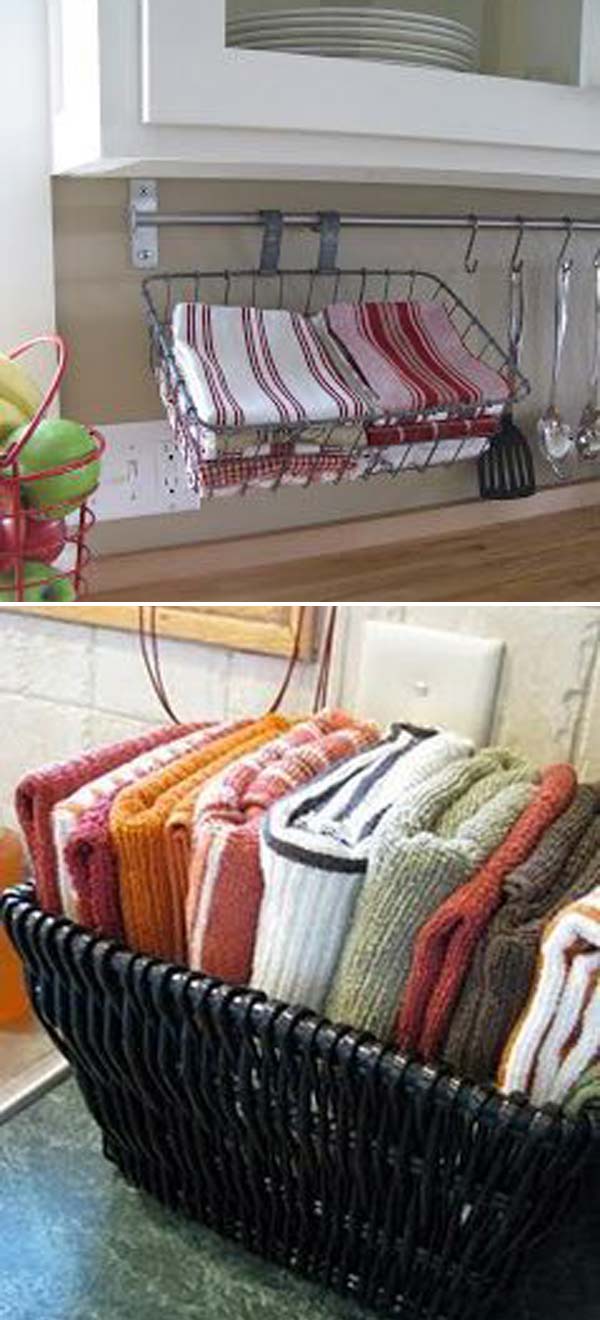 via redfarmhouse.blogspot.com and iheartorganizing.com
Use an over-the-sink cutting board to temporarily expand your counter space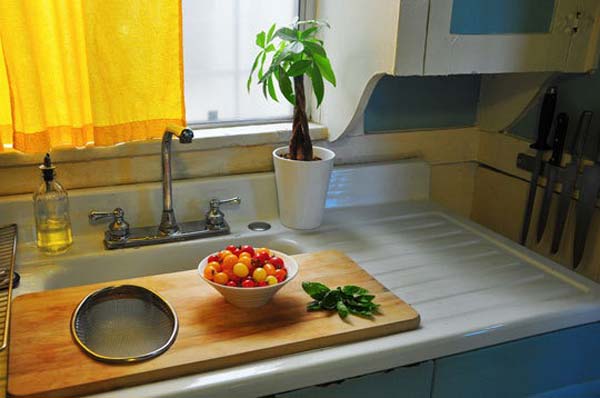 via thekitchn.com
Bring an outdoor wall planter indoors to free up counter space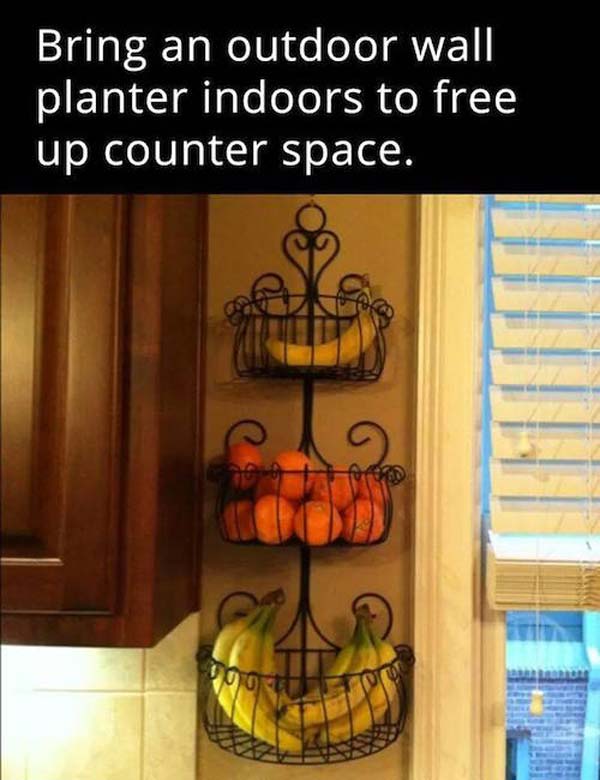 Source Unknown.
Raise the cabinets to the ceiling and add a shelf under them to squeeze out some more storage space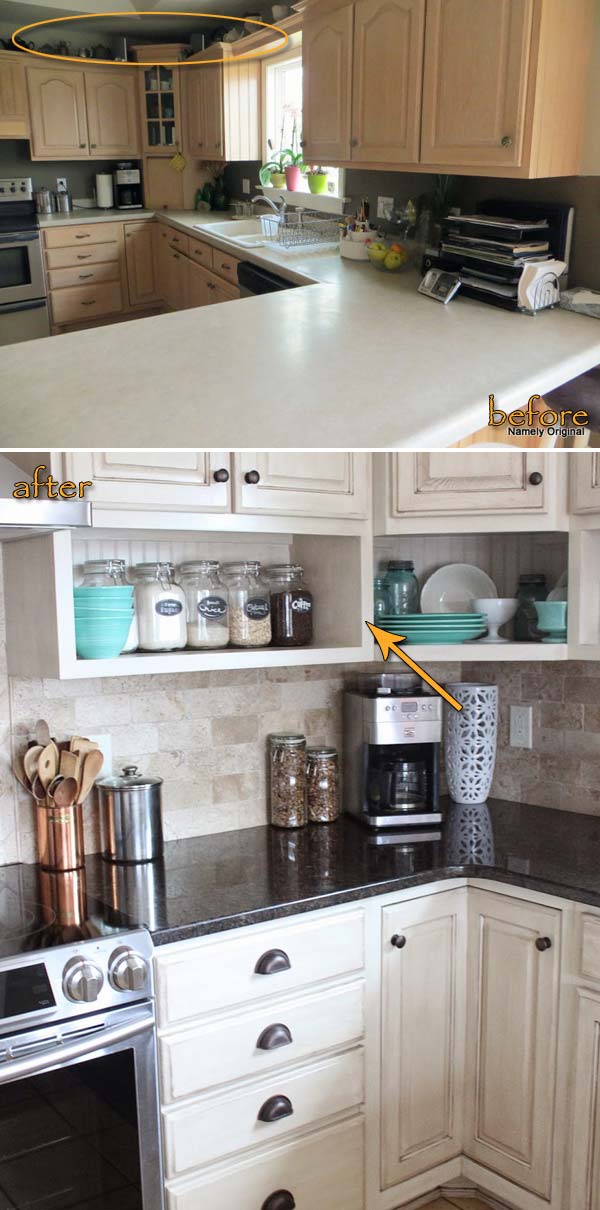 Get full tutorial here: namelyoriginal.blogspot.com
Build a DIY-friendly appliance garage to help you get rid of a countertop cluttered with small kitchen appliances such as coffeepot, toaster and even stand mixer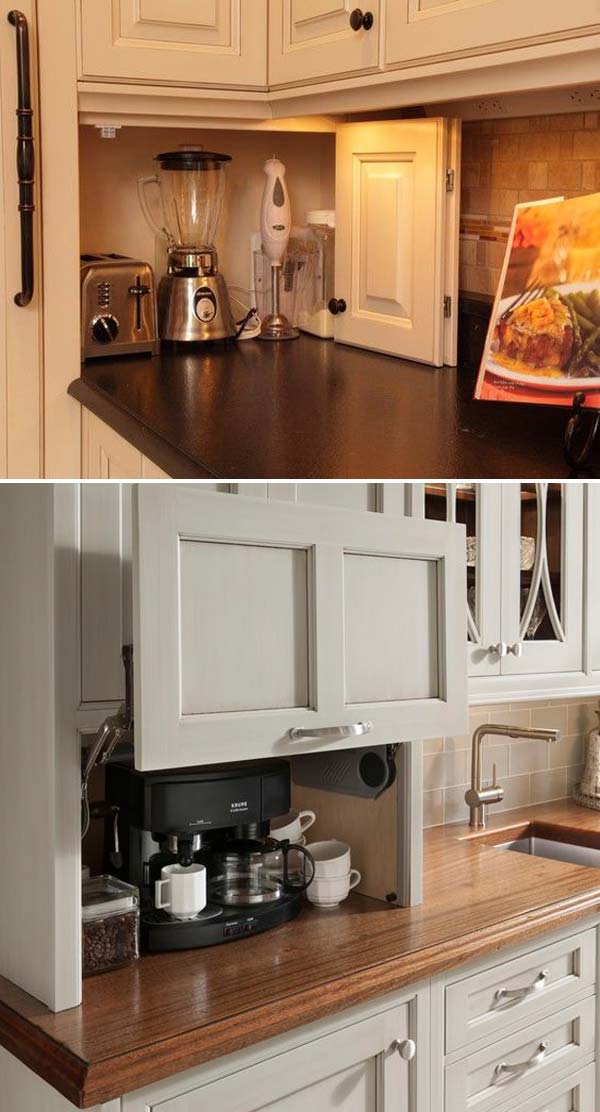 via houzz.com and build-basic.com
Attach hooks to hang kitchen utensils on the side of your cabinet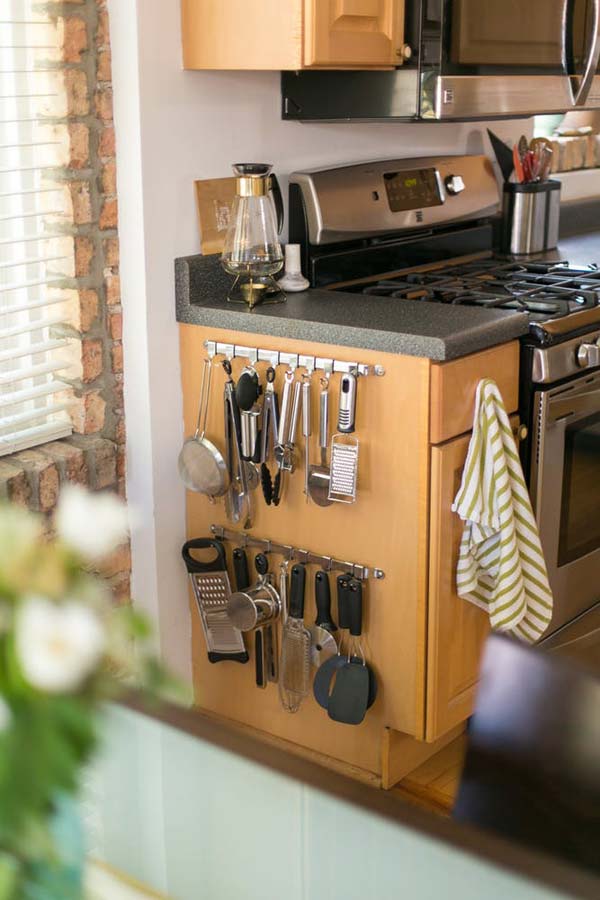 Curtain rod with hooks to hang up utensils is a simple way to help you get rid of countertops clutter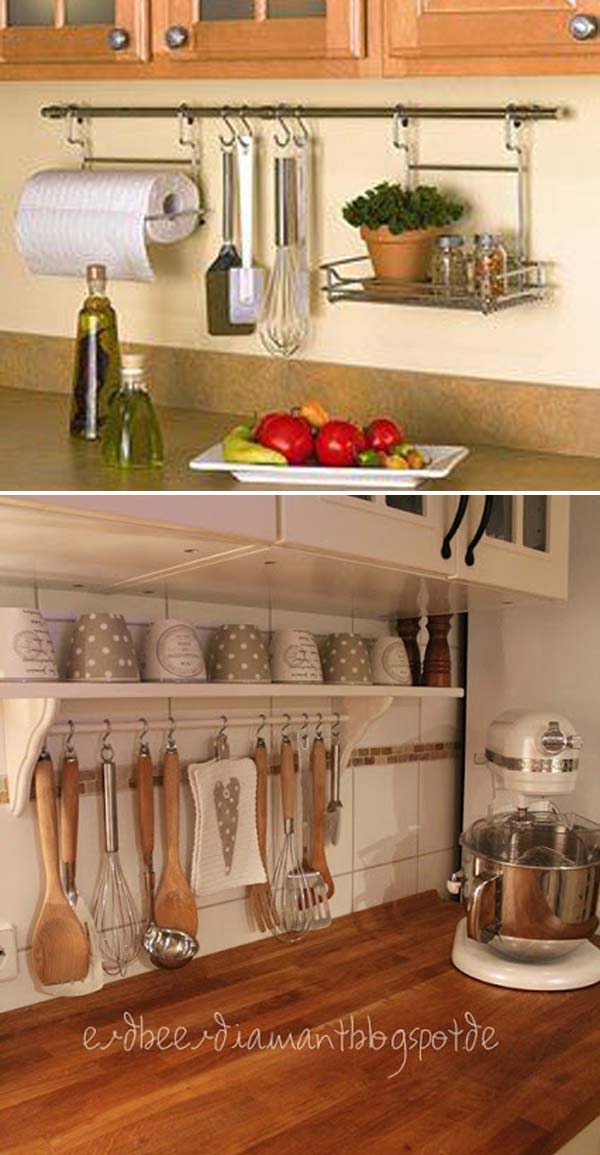 Bottom Image via erdbeerdiamant.blogspot.co.uk
Mounting a few shelves inside your kitchen window will let you get extra surface space for storage

Free up your space by hanging an additional shelving for microwave oven

via joeandcheryl.com
The wide, shallow basket is a great way to keep things together. You can clear countertop clutter by putting it in a pretty basket tray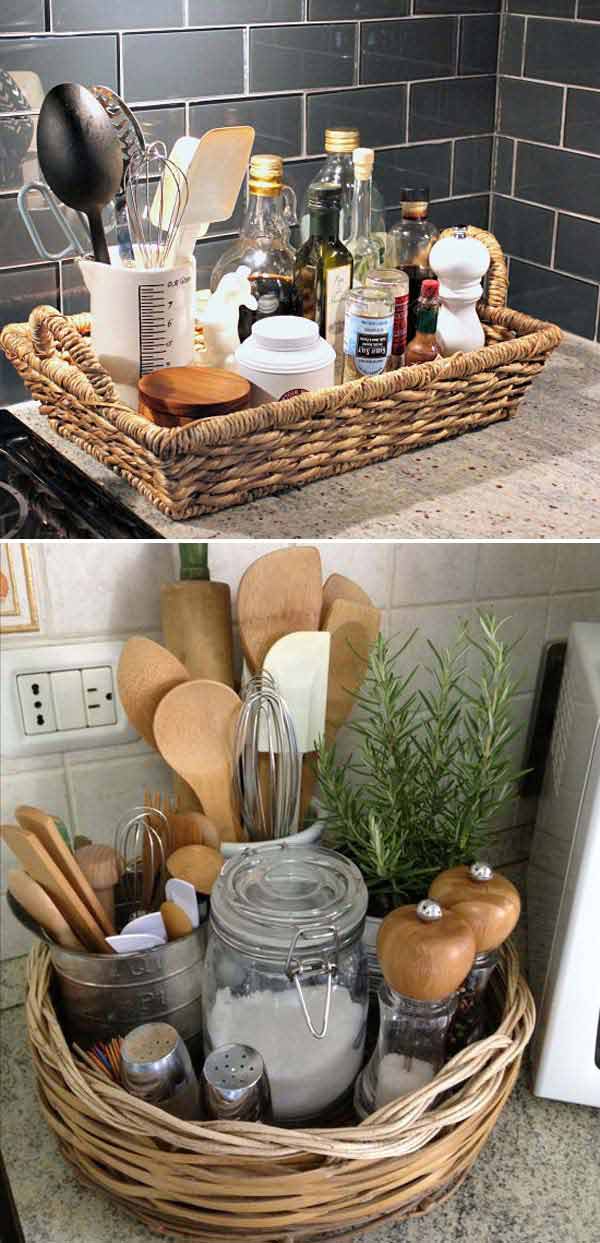 via hisugarplum.com and wingsviewathome.tumblr.com
Use your backsplash as storage by hanging curtain rods and holders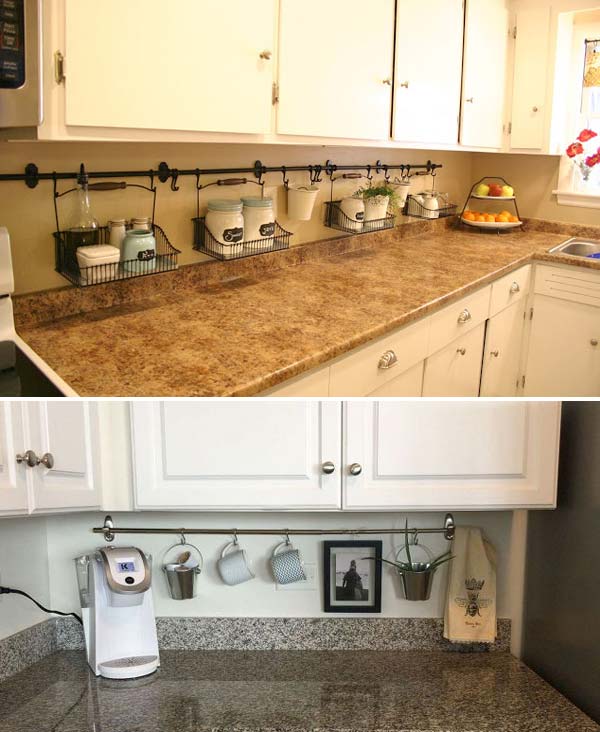 via no29design.com and hometalk.com
These over-the-sink dish racks let dishes drip dry in an orderly fashion, and won抰 rob you of prep space
via instructables.com and instructables.com
Store your chopping board under the kitchen cabinet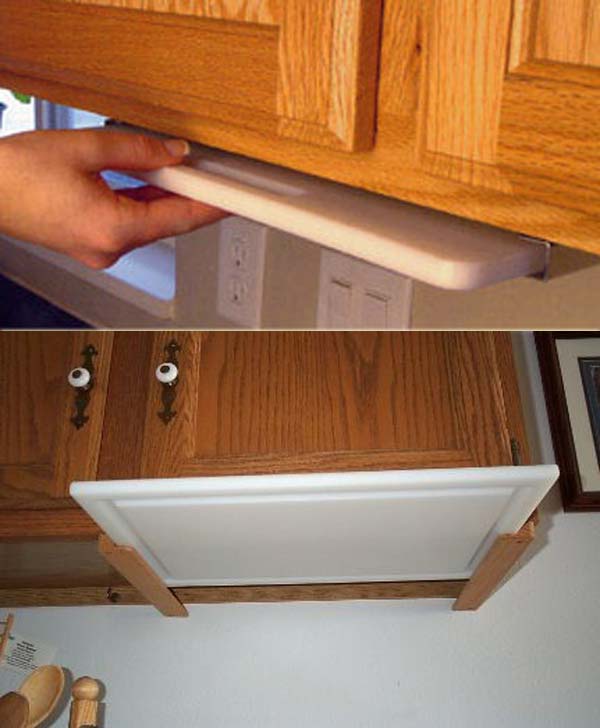 via organizeit.com
Extend the storage space by adding a kitchen shelving with pot rack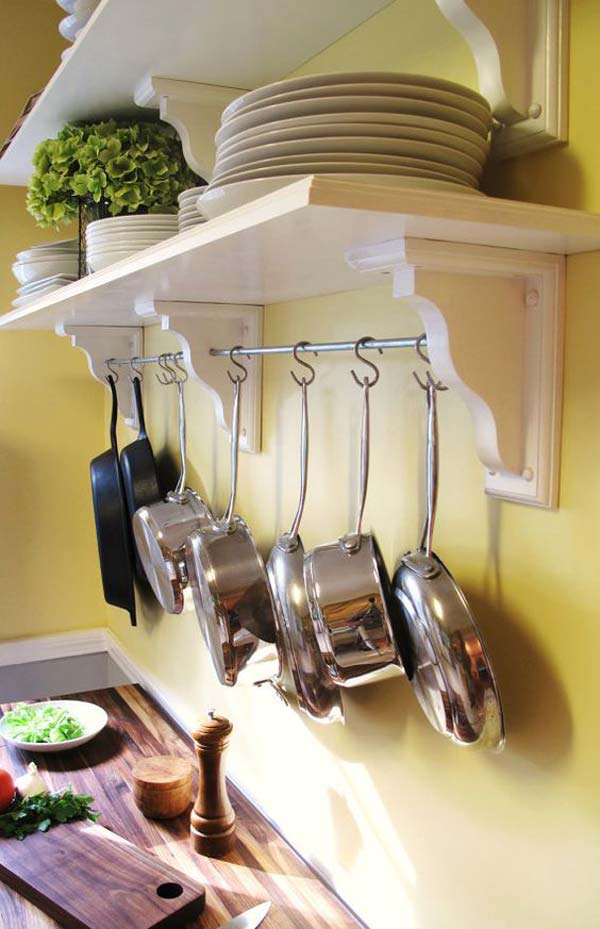 via etsy.com
Add a spice shelf underneath the cupboards to beat one of the biggest source of clutter ?spices storage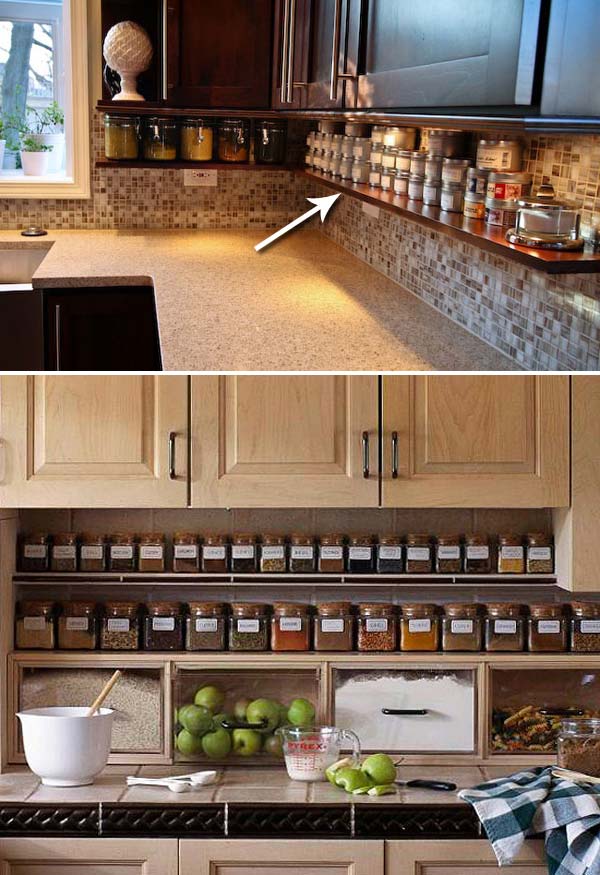 via jencaputo.typepad.com and bhg.com
Set up an island with open storage, the shelves inside of the island provide a place to stash cookbooks and kitchen items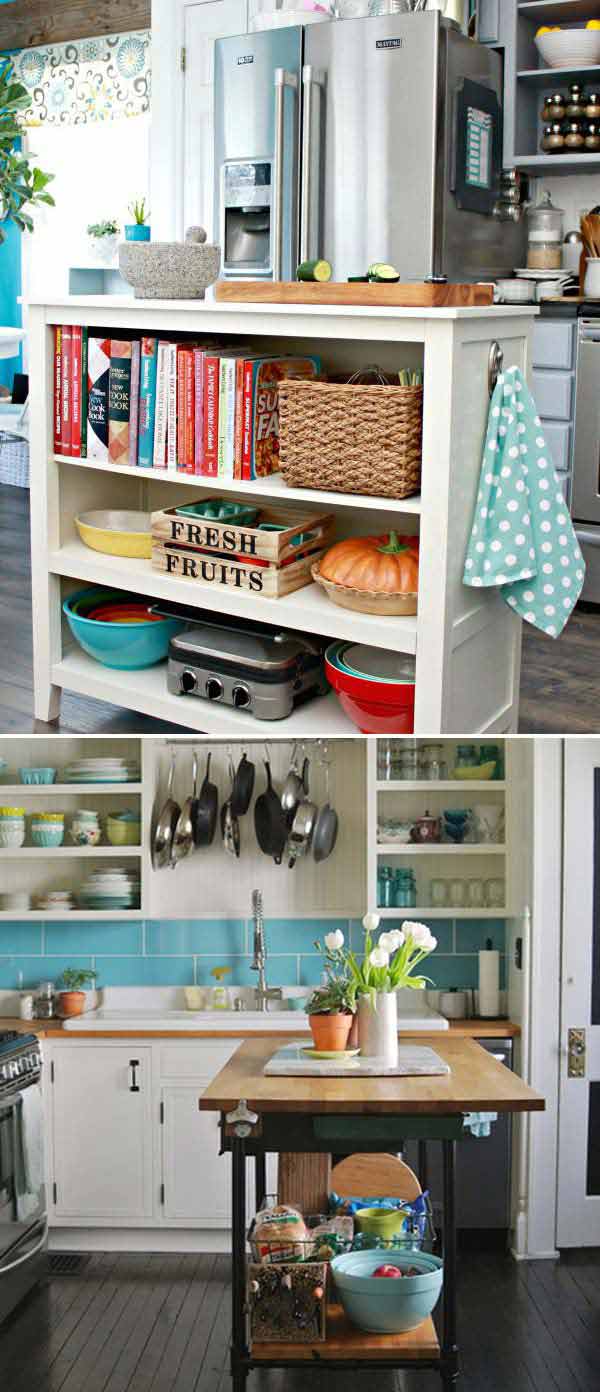 via mom4real.com and houzz.com
Put soaps and dishrags onto a cake stand; it will help you clear up the space around your sink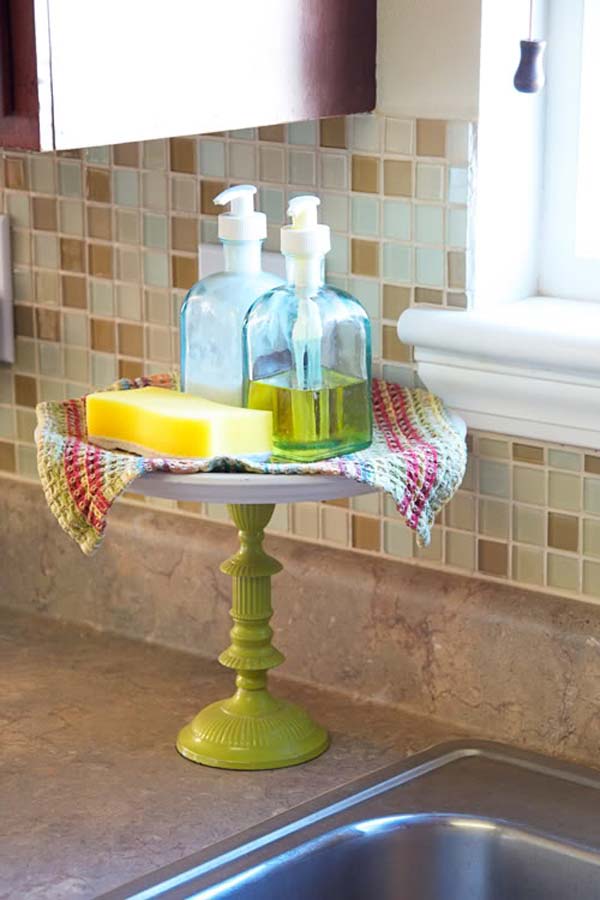 For more details at: natalme.com
The side of cabinet would be the perfect spot for floating shelves